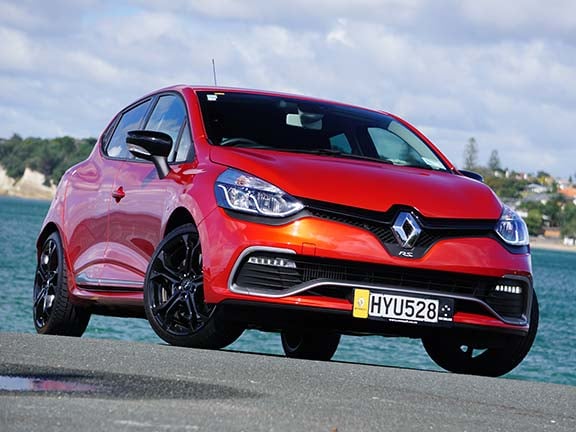 Base price: $45,990.
Powertrain and performance: 1.6-litre turbo petrol four, 147kW/240Nm, 6-speed automated gearbox, front-drive, Combined economy 6.3 litres per 100km, 0-100km/h 6.7 seconds.
Vital statistics: 4090mm long, 1448mm high, 2589mm wheelbase, luggage capacity 300-1146 litres, fuel tank 45 litres, 18-inch alloy wheels on 205/40 tyres.
We like: Character, choice of driving modes, grippy and fast.
We don't like: Can feel grumpy in city driving, chassis not as accomplished as some hot-hatch rivals.
How it rates: 8/10
WHAT DO I NEED TO KNOW? Renault might be a (very) niche brand in New Zealand, but it's the fourth-largest carmaker in Europe and has incredible resources. So it's not only a mainstream maker in its home territory, it's also a producer of some of the most exciting hot hatches in the world through its Renault Sport (RS) division.
The latest is an RS version of the Clio supermini. While previous models have been almost entirely focused on performance, with manual transmissions and three-door body styles, this latest incarnation is aiming for a broader audience with a five-door body style and dual-clutch transmission, which can be driven like an automatic.
You can even choose your Clio RS according to how much aggression you really want: there's a standard Sport, the mid-range Cup and max-attack Trophy.
Our test vehicle is the Cup, which has shorter gearing and stiffer suspension than the regular RS. An electronic differential-locking function for the traction control is also standard.
WHAT'S IT LIKE TO DRIVE? Ease of use might have been more of a priority with the latest Clio RS, but it's no shopping trolley. There's a constant growl to the turbo-four engine and the dual-clutch transmission sometimes shifts awkwardly between ratios at low speed, a reminder that this is a car made for better (faster) things.
So yes, you can use the Clio RS as a city car. But no, it never quite feels relaxed in that role.
In fact, it can even feel a little sluggish. To reveal this car's true character you need to be aggressive with the throttle and/or use a little red button on the centre console marked RS Drive. That's essentially your performance mode: press it once and a green light marked 'Renault Sport' appears on the dashboard. It's your ticket to sharper steering and throttle response, along with a more manic gearbox calibration. That same light also acts as a shift indicator, changing from green to orange as the revs rise.
Thus configured, the Clio RS is a hugely entertaining machine. Entertaining, but not quite as mad as the exterior styling (and the RS-brand's reputation) might suggest. There's a lot of grip from the 18-inch rubber (another step up from the Clio RS Sport) and the car is responsive to steering inputs with very little understeer, but it stops short of being a wild child. It's fast, but also feels quite grown-up. Too grown-up, perhaps.
You can take another step into Race mode. With the transmission set in manual, you hold the RS Drive button down for a few seconds; then you have access to Race mode, which gives you full manual control of the gearbox (it won't shift unless you click the paddles, even at the redline) and disables the stability control. Perhaps something more for track use than the public road, but it does show that when it comes to the crunch, Renault Sport still wants to give you a car that will go all the way.
That extends to launch control, which will help you get the Clio RS off the line and to 100km/h in the shortest possible time by juggling throttle and traction control automatically while you press the accelerator pedal and hang on tight. Reassuring anti-social.
IS IT EASY TO LIVE WITH? There's a fair bit of flair in the Clio's cabin architecture, even if the prominent flashes of red on the steering wheel, gearlever and elsewhere won't be to everybody's taste.
You can't forget that this is a supermini at heart though, and a small one at that. The Clio is not quite family car-sized: fine for two up front, with children or occasional adult passengers in the rear.
The centre console is dominated by a touch-screen information and entertainment centre. The graphics are a bit dark and mysterious, but the features include a satellite navigation system and the iPod connection will display album art for you. Nice.
There are aspects of the car which still conform to French stereotype by being poorly thought out. The USB port for said iPod/iPhone is next to the screen, which makes sense in theory. Problem is, there's nowhere to put the device except low-down, so you end up with a cord dangling all over the dashboard.
It's also hard to fathom why an otherwise well-equipped car like this – especially one with a tiny rear window – doesn't have a reversing camera, especially as there's a nice screen that could serve as the display. In fact, the Cup doesn't even have parking sensors.
SHOULD I BUY ONE? The Clio RS plays a dangerous game by trying to introduce more user-friendliness into a package that has always served the enthusiast first and foremost.
For the most part, it achieves that balance. The dual-clutch gearbox is not the smoothest at low speed but it does take away the hassle of a third pedal for town driving, and the ride is remarkably good even on the Cup's harder suspension and larger wheels.
For performance driving the Clio RS is not the most fluent hot-hatch around (try the Fiesta ST if you want the ultimate) and it is expensive, but it for those who want a blend of exclusivity and high-speed ability, this is still a tempting proposition.
EQUIPMENT CHECKLIST
Blind spot warning: No
Lane guidance: No
Cruise control: Yes
Automatic lights/wipers: Yes/yes
Parking radar: No
Self-parking technology: No
Head-up display: No
Satellite navigation: Yes
Keyless entry/start: Yes/Yes
Stop-start: No
Air conditioning: Manual
Heated/ventilated seats: No
Power seat adjustment/memory: No
Leather upholstery: No
Power boot or tailgate: No
Split/folding rear seats: 60/40
Browse Autotrader's range of Renault Clio cars for sale.